Superior Waste is an established industry leader in the provision of holistic waste management solutions for the Commercial Sector. Superior's approach to commercial waste management in Australia is critical as we take the time to assess individual client needs, helping to provide the most suitable and efficient solution for the collection, removal and processing or recycling of all waste streams.
Service

No buttons to push, speak to one of our friendly staff. We anticipate your needs, see to the details and offer an unparalleled level of service. Usually the person answering your call will be able to assist you with your request. If this isn't the case, we will arrange for the correct person to contact you.
Cost Effective

Cost effective Services tailored to your budget and needs, contact Superior today for a quote. State of the Art Volvo FM9's fitted with Superior Pak Bodies, Route Rationalisation, Experienced Staff, Routing to appropriate licensed Landfills.
What Can We Do For You?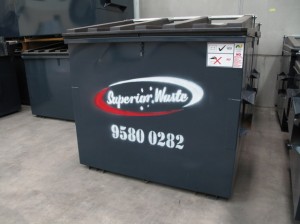 Providing unrivaled service in rubbish skip and Bin Hire in Melbourne for over 4 years, Superior Waste Management Services supply bins to suit all manner of waste removal, including:
Bins: All front lift bins are brand new and have been specifically manufactured and tested for optimum safety as per specifications set out by Superior Waste. Please see the Easyquip™ brochure within our website to view the safety of the lids and how effective they are in comparison to the older style twin lids.
Front Lift Dumpmaster collection & disposal: Providing unrivaled service in Dumpmaster collection & disposal for Commercial Business
Bulk Bins: For solid waste management, Superior provide rubbish skip hire for the removal of waste like, tiles, bricks, concrete, soil and general waste clean ups. Sizes range from 6.0 M3 – 31.0 M3 bulk bins.
Security Disposal:Arrangements made for individual site requirements along with all relevant secure disposal documentation.
Liquid Waste: Hazardous, Grease Traps, Triple Interceptor, Solvents, Sludge, Oily Waters & Oil. All treated & disposed of at licensed premises.
Waste Audits: There is available upon request staff to advise you with regard to recycling, and waste audits can be arranged to ensure your Company is kept up to date in regard to waste minimisation methods.
Rear Lift/Wheelie Bins: Some sites are simply not suited to a front lift truck being able to manoeuvre on their site or a dumpmaster bin is too large for their waste output.
Sanitary Waste: Superior Waste can supply a sanitary service & organise regular changeovers of 22 litre sanitary bins.
Co-Mingle & Paper 240 Litre Carts: We can organise this service for your site on an ongoing basis.
For more information contact: Contact Us.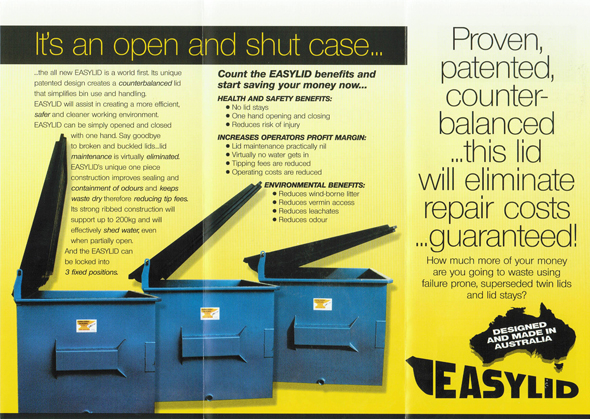 Customer Service Commitment
Superior Waste Management prides itself on providing excellent service to all our clients. The customer sees the staff of the company and our


Posted on January 4, 2010

Importance of Service Delivery Promises
Superior Waste Management is founded on the principal of efficient and effective service delivery. Our survival and continued success is dependant upon meeting


Posted on January 4, 2010
CLIENTS THAT LOVE US